Photo: @onechiclook
Welcome to week 7 of the One Room Challenge! Week 6 & 7 has been a vicious game of "Dude where my delivery?" If you follow me on Instagram then you already know behind the scenes of my dilemma. While I'm anxiously awaiting several deliveries, please catch up on my previous blog posts here.
As the final week of the One Room Challenge is approaching, I wanted to take this week to highlight all the possibilities that can be attained in your backyard while being a renter. Often renters do not customize or decorate because they are not the homeowner. I always ask, but why? We talk ourselves out of truly making our house feel like a home. Ignoring our needs and putting the thought of losing security deposits first. Well, I say you can have both. You should always make where you live to feel like home and it should not sacrifice your security deposit. Here are some tips to help you create the backyard oasis or patio you desire:
Think About How You Will Use Your Space
Create A Budget
Research & Decide On Your Floor Covering
Shop For Furnishings & Decor
THINK ABOUT HOW YOU WILL USE YOUR SPACE
For those of you who are new here, I'm a New Yorker, and getting a rental with a backyard is one and few in between. If you are lucky enough to rent a space with a private backyard, you have the opportunity to gain an extra space to entertain. During the Summer months having a backyard is a great spot to entertain guests, host a BBQ, or just relax and unwind. Whether you have a backyard, a patio, or even a balcony, the first step to planning any space is deciding how you will use it. How big is your space? What can it be used for? Is it a space for one or will it be used to accommodate a large number of people? Once you decide how you will use your space, you will then decide on a budget to fund its functionality. Consider breaking your budget into multiple of 1/3s. 1/3 of your budget goes to furniture, 1/3 to floor covering, and 1/3 to decor. Learn more here.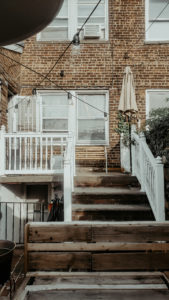 CREATE A BUDGET
Once we decided what we wanted to use our backyard for, we created zones for each area. Within each zone, a budget was calculated. In your space, you should follow the same step. Create a budget. Will you be using your space for dining? Do you already own a table or will you buy one? What is your budget for a table & chairs? If your space is just for relaxing and unwinding, what type of seating fits your style? Will you provide seating for one, two, or more? Whatever you decide to budget your project, there is always a solution no matter what. Always think about your design goals and find a way to meet your expectations. If your budget is small, think about buying second-hand furniture or building it yourself. Doing so can save a ton of money. You can also save money by purchasing furniture during a closeout sale or during a discounted selling event. If you take the time to plan, you can plan on saving. Learn more by reading my previous blog post week 2 here.
RESEARCH & DECIDE ON YOUR FLOOR COVERING
Outside of purchasing furniture, floor covering will be the next big chunk of your budget. In fact, it should only be 1/3 of your overall budget. Due to technology, temporary flooring options have revolutionized and become more economical. Consider temporary flooring options like interlocking composite decking, artificial turf, or concrete etching. Area rugs are another cost-effective option that will not put your security deposit in jeopardy. It will cover a large area within reasonable cost and provides a soft dependable flooring that should last season after season. Learn more about flooring options here.
Photo: @onechiclook
SHOP FOR FURNISHINGS & DECOR
While shopping for decor at popular retailers is an option, it can also not be cost-effective. I recommend looking for decor items from multiple areas such as second-hand locations like the thrift store, Facebook marketplace, or even Craigslist. Visit your local dollar store. Drive around your neighborhood for discarded items. You will be surprised at the great items your neighbors will discard as trash. Create conventional solutions by building or creating them yourself for less. I find a lot of decor inspiration on Instagram or home decor blogs and then seek the design solution to meet my needs. I always challenge myself to find the look for less. I have been in the retail circle for a long time and I am very familiar with how home decor items are constructed. The price of an item is in its the construction. If you can do it yourself, do it. Read more about decor shopping in my previous week 5 blog post here.
Support other One Room Challenge participants by visiting One Room Challenge here. Be sure to return here next week for my final reveal plus you can see the reveal of all guest participants. See you June 24th- 27th.