Our backyard takes on a lush transformation. With warm weather officially on the horizon, week 5 of the One Room Challenge is in full swing. June is a beautiful month. June shockingly reminds us that half of the calendar is gone. It also reminds us to get out and enjoy the sun.
This week the backyard took on a major change because we finally made our flooring selection. You see our backyard is fully concrete. It is covered in oil stains and dirt marks. We considered adding decking from Ikea but due to the size of our space, it was too costly of an option. Then we also thought about just using a very large rug to cover the space. Ultimately we decided to go with artificial turf.
So I know what you may be thinking, really artificial grass? Your backyard is going to look like a putting green. Hear me out. The reason we chose artificial grass is that we rent, it is easy to install, just like a rug, and it is easy to remove. We get the lush feel of grass without the pesky maintenance costs.
I ran into the idea by mistake actually while shopping at Home Depot. I saw rolls of putting green grass on display. Right next to it was a premium lush pile of artificial grass that instantly got my attention. With its heavy price tag of $399, I decided to pass. We later discovered that Home Depot sells artificial turf that you can get cut to a custom size. It is available to purchase similarly to buying bedroom carpet. We needed a large size. 10 feet by 13 feet to be exact but it still came with a hefty price tag of $250.
On another trip to Home Depot, we noticed that carpet remnant were available to purchase. They were shoved slightly out of sight and rolled up together right under the carpet cutting machine. It is there we found the artificial turf remnant we needed. So for an $85 price tag, we now had the ground covering we needed to complete our One Room Challenge. The remnant was exactly the size we needed. It allowed us to cover the dining zone and the lounging zone.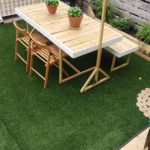 Once we rolled out the artificial turf and covered the concrete, it instantly changed the look of the backyard. It softened all the hard lines and gave us the vacation vibe we were going for.
If you're new here, you can follow along by joining me on Instagram.
If you missed the first four weeks and want to catch up, you can read my previous posts about my One Room Challenge project here: Week 1 | Week 2 | Week 3 | Week 4. You can also watch the whole ORC process on my Instagram highlight. Don't forget to check out the 20 Featured Designers and the rest of theGuest Participants to see how their projects are coming along!