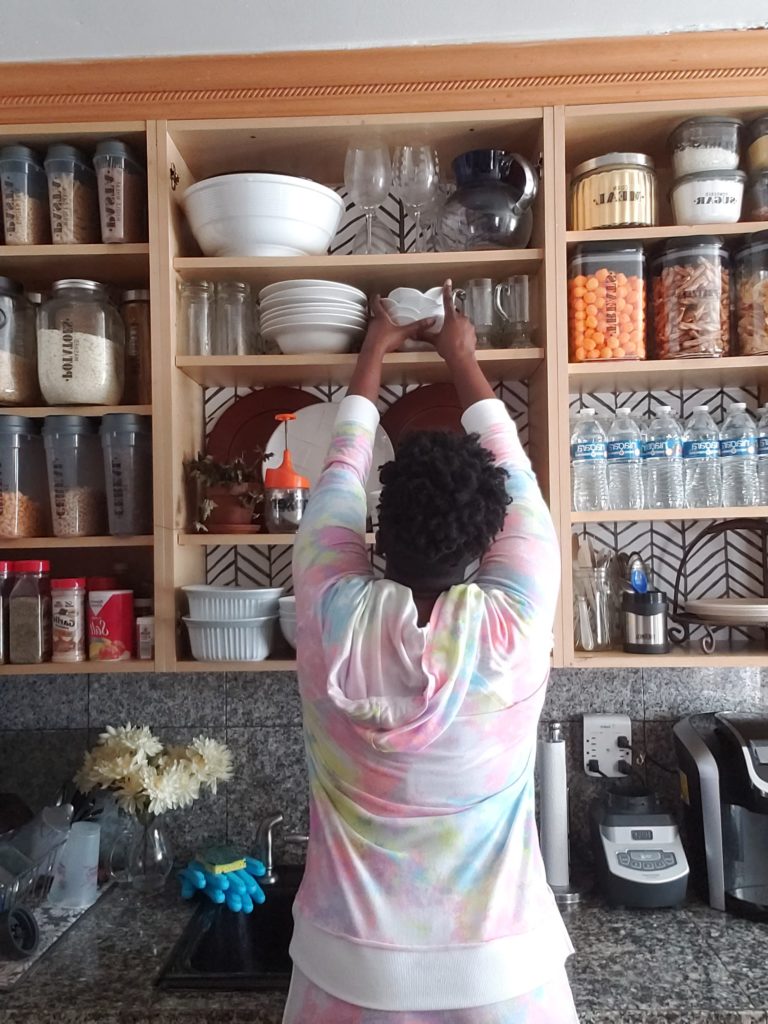 An Instagram worthy kitchen is almost non-existent when it comes to a rental kitchen. Often you get stuck with old cabinets, outdated flooring, lack of storage, and terrible countertops. But thanks to advances in technology, there are tons of options out there to help transform an outdated kitchen into something spectacular.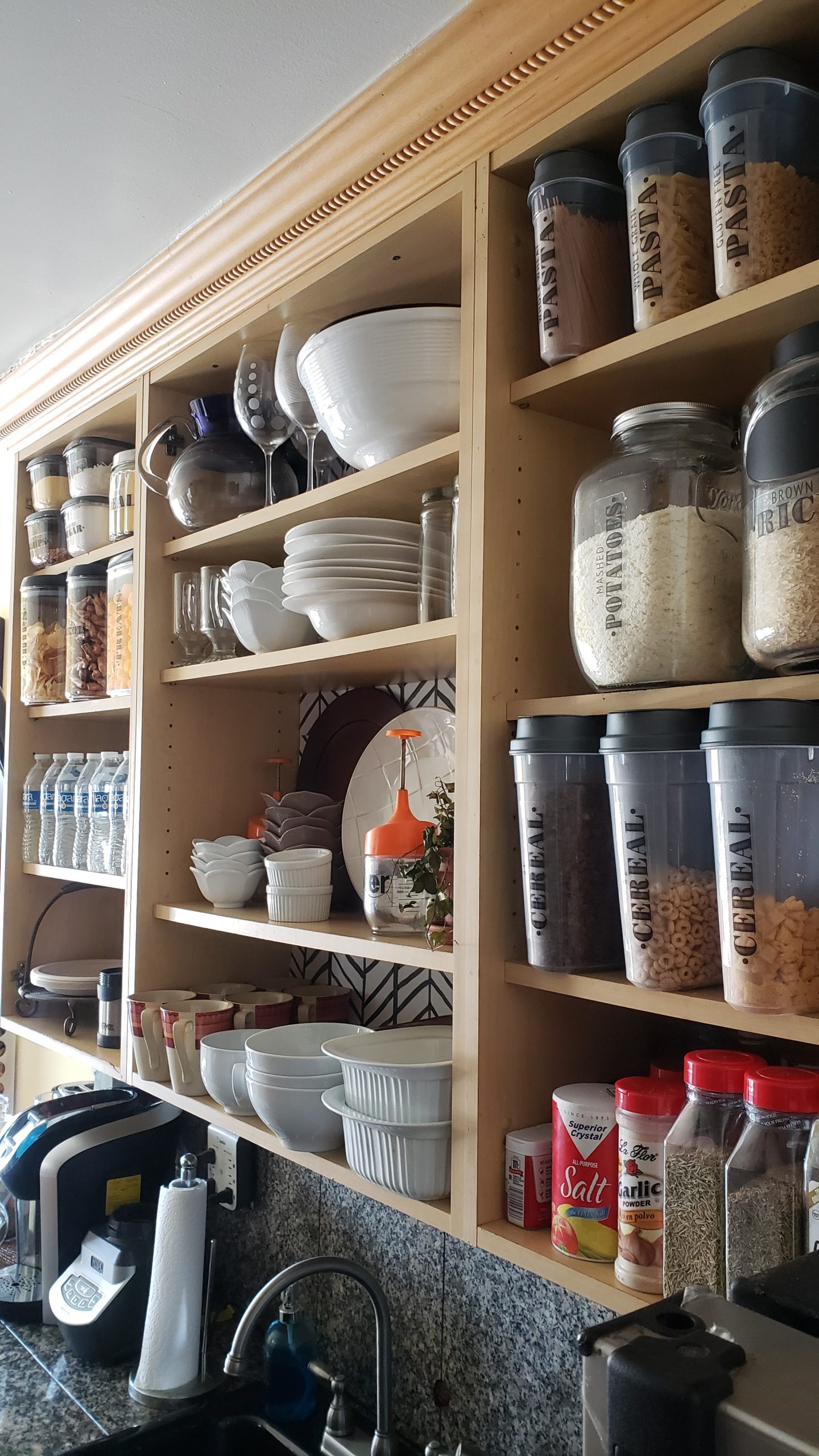 Remove cabinet doors
The easiest way to instantly give your kitchen a fresh update is by removing the upper cabinet doors. Why stare at old looking cabinet doors when you can join the open shelving trend. Simply remove your upper cabinet doors by removing the hardware and storing them away for safekeeping. Remember to keep all the hardware together, you will need them when its time to place the doors back on.
Renter Tip
Place the hardware in a zip lock bag and tape it to one of the upper cabinet doors you removed.

Add wallpaper or contact paper
Once you remove the doors, the easiest way to take your kitchen to the next level is to add wallpaper or colored paper in the back of the cabinets. Wallpaper is now available in tons of renter-friendly colors and patterns which means endless options. Wallpaper is not only for the back of the cabinets. Add them to the front of your cabinet doors too or use them to cover outdated countertops. Take it as an opportunity to easily add personality and texture which will instantly change the look of the entire kitchen. When shopping for wallpaper be sure to find options that are easily removable and will not cause damage.
Renter Tip
Place the wallpaper on foam board instead of directly on the cabinets when applying wallpaper to the back of cabinets to 100% prevent damage

Add open shelving
Adding additional storage is always a plus in a tiny kitchen. Add floating shelves to display dinnerware or baking items helps keep frequently used items handy. Or use your open shelving for extra space for pantry goods or even a place to house small kitchen electrics that would otherwise clutter your kitchen countertops. You can find affordable shelving at Ikea or you could DIY shelves as I did here by using MDF cut to size and simple metal brackets.
Change the knobs
Spray painting or swapping out outdated knobs for new on-trend knobs will also give your kitchen a facelift. You can find affordable designs at Home Depot or even on Amazon. Make sure you select a style that works with the existing hole in your kitchen cabinets. Stay away from styles that would require you to create a new hold in your kitchen cabinets. Not interested in buying ones, simply remove the old ones and give them a facelift by applying spray paint. A can of spray paint can do wonders.
Add floor decals
Have you seen the latest advances in flooring? Floor decals are all the rave. Floor decals are peel and stick tile stickers you apply directly over your existing flooring. They provide the perfect budget-friendly option to update ugly floors to something spectacular. Renters are not the only ones benefitting from these stylish updates. Homeowners are also finding the benefit of applying floor stickers. They come in a wide array of stylish options that are a fraction of the cost to remove old tile/laminate floors. Since floor decals are applied easily over exiting flooring they have to be extremely durable. Opt for styles that are waterproof as they help to improve the longevity of wear and tear. Shop floor decals from popular brands such as Quadrostyle, Etsy, Home Depot, and Amazon.