Photo: @onechiclook
What has being home this past year meant to you? Were you like me initially scared and unprepared? Or were you prepared and saw it coming in some weird spiritual way? Whatever side of the fence you stood, we all shared one unanimous enormous change in our lives; and I'm not talking about bath tissue. What was that all about anyway?
What has become remarkable is the collection of fabric masks we have all acquired over the last year or more, visits with friends or family only in small outdoor gatherings became the new normal, working or learning from home was initially a painful process, downtowns deserted at noon on a weekday.
March 11th changed all of our lives.
We began to value family all over again and we were reminded not to take the small yet simple things in life for granted. We began to rethink…home!
Unused spaces began to take on an entirely new meaning. Underutilized rooms got full makeovers. Creating spaces at home became imperative and very necessary. Family time became a top priority more than ever. I don't think I will ever forget what it meant to be home last year and how grateful I am to be here in 2021.
When it came time to makeover our backyard, the goal was to create a space for more family time we could enjoy outdoors. Within our 400 square feet, I knew I wanted three zones; grilling, eating and lounging. Each zone encouraged a very important function; relaxation! Relaxation is highly encouraged here. In fact, relaxing and lowering anxiety that occurs from daily stress at work, health issues, and financial problems melt away when you enter our enchanted oasis.
Photo: @onechiclook
1. Lounging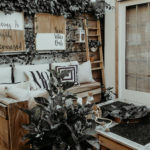 The lounge area is broken up into two areas. The first area is pictured above and it features a cozy dreamy corner for this Better Homes and Garden Egg Chair. It was the perfect spot to curl up and read a book right?

The second area features a large l-shaped bench created from pallet wood. The bench was decorated with lots of textured pillows in a black & beige color scheme.
2. Grilling
The grilling area's main feature is the grilling station built from a fencing panel purchased at the Home Depot. It is the main focal point across the yard and commands the most attention when it's time to grill.
Photo: @onechiclook
3. The Eating Area
Table for seven, please. This eating area was designed to host the entire family during grub sessions of an epic proportion. The bench is the perfect size to seat 3-4 adults while still having 4 individual chairs for a roomier option. The table was also constructed using 1 fencing panel purchased at the Home Depot.
Photo: @onechiclook
If you are new here, you can follow my journey through the One Room Challenge by following me on Instagram. All my highlights are saved under the One Room Challenge icon.
If you missed the first seven weeks and want to catch up, you can read my previous posts about my One Room Challenge project here:
Week 1 | Week 2 | Week 3 | Week 4 | Week 5 | Week 6 | Week 7. You can also watch the entire ORC process on my Instagram highlight. Don't forget to check out the rest of the Guest Participants to see how their projects are coming along!