Spring marks my favorite time of the year. What's not to love? All the flowers are in bloom, birds are chirping, and symbolically it reminds us of a new beginning. This Spring, I joined the widely popular One Room Challenge. It is a unique home decor challenge that features top designers who are selected to design and makeover one room over the course of six weeks. You can also participate in the One Room Challenge as a guest participant.
The Room
As a guest participant, I chose to makeover my neglected backyard. Although we did a few projects in our backyard while we all sheltered in place last year, it was no way near what we wanted. We have lived here almost 5 years now and never took advantage of having a pretty nice-sized yard. Having a backyard and a garage while renting in New York is a gold mine. Because we rent is also another reason why we did not do anything much in our backyard. For the One Room Challenge, we knew that creating a space we could entertain and enjoy ourselves was on top of our priority list.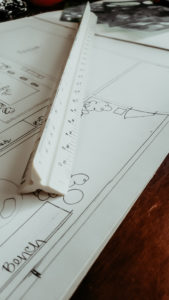 The Design
Creating zones for entertaining and lounging are the key factors for my design aesthetic. I knew I wanted to keep a neutral color palette and I also wanted to dab a little into the wood and white color trend.
The backyard will have 3 distinct zones; eating, lounging, and entertaining.
1. Eating
A custom-built dining table will be created on the far right side of the yard along with a BBQ grilling station. This will be the area to prep, cook, and eat. I knew I wanted to have a counter to serve and prep food. I designed a custom outdoor kitchen that can be taken apart easily when I move. It is designed to house our BBQ grill. With additional counter space, we can display our serving platters and it also doubles as a great buffet.
2. Lounging
I've always had my heart set on one of those beautiful egg chairs seen at Target. I imagined myself reading a book and sipping lemonade out of a large mason jar. Nestled in between the entertaining and eating zone, was the perfect spot to create an additional seating area. You can get an idea of what I mean when you glance at the design plan pictured above. This one a little cozier and a little more intimate. The perfect spot to put your feet up and unwind while enjoying the view of the rest of the backyard.
3. Entertaining
The entertaining area of the One Room Challenge includes a custom-built L-shaped pallet bench right in front of the studio we built last year. It is large enough to seat 6-8 adults. Right in front of the newly built pallet bench, is a large coffee table that doubles as a holder for our propane patio heater. It looks cozy up against the plywood fence we gave a makeover last year.
Our backyard makeover can be seen on Instagram @onechiclook. Be sure to follow along in Ig Stories and also IGTV. Remember to subscribe so you don't miss out on next week's post, week 2 of the One Room Challenge. We will begin building some planter boxes and the grilling station. Follow along as I shop for supplies, decor, and so much more.
Are you familiar with the One Room Challenge? You can find more information about being a participant on their website oneroomchallenge.com. Be sure to comment and support the participants by visiting the One Room Challenge Blog. The One Room Challenge is proudly sponsored by Better Homes & Gardens.