While renting can have tons of advantages for some, the vast majority agree that renting can come with some seriously ugly challenges. Having lived in New York for a few years now, I have seen several apartments with less than desirable kitchens and bathrooms. Add to that list, limited storage, and old fixtures. Here is one project you can do to help your rental apartment look more up to date?
Giving your kitchen backsplash an update can drastically improve the look of your entire kitchen. So I know what you are thinking, what can you do to upgrade your kitchen backsplash without making permanent damage? There are tons of options out there that provide solutions to covering ugly kitchen backsplashes. For under $100, you can upgrade your kitchen backsplash using plywood underlayment and chalkboard paint. Here's how!
Supplies needed:
Plywood underlayment
Chalkboard paint
Water repellant sealer
Velcro
Chalkwriter chalk
Paintbrush
Roller
Paint tray
Pencil
Saw
Begin by measuring the height (countertop to under the upper cabinet) and length of your kitchen backsplash. Once you have your measurement, you will purchase the applicable size plywood underlayment needed. For my kitchen, the length was 72″ and the height was 18″. So I headed to my local home improvement store and purchased one 6′ plywood underlayment sheet. I knew I only needed one sheet to complete the project in my kitchen. The folks over at Home Depot were able to cut the plywood to my desired size.
Once I got the plywood home, I marked the areas where I would need to make cuts to accommodate outlet covers and light switches. Cuts were made using a jigsaw and lightly sanded for a smooth finish. Then I lightly sanded the raw edges and gave the plywood two coats of the water-repellent sealer. I let the plywood dry based on the manufacturers' instructions.
Next, apply two coats of chalkboard paint. Let the first coat completely dry before applying the second coat. Once completely dry, I prepared to put the freshly painted plywood in place using velcro. Be sure to properly clean your existing backsplash and let it dry. The velcro adhesive will adhere best to a freshly clean and dried surface.
Now here is the fun part. This when you can bring out your personality by applying fun sayings or art on your chalkboard backsplash. I was going for a cafe coffee shop vibe in my kitchen but you can do whatever design you like.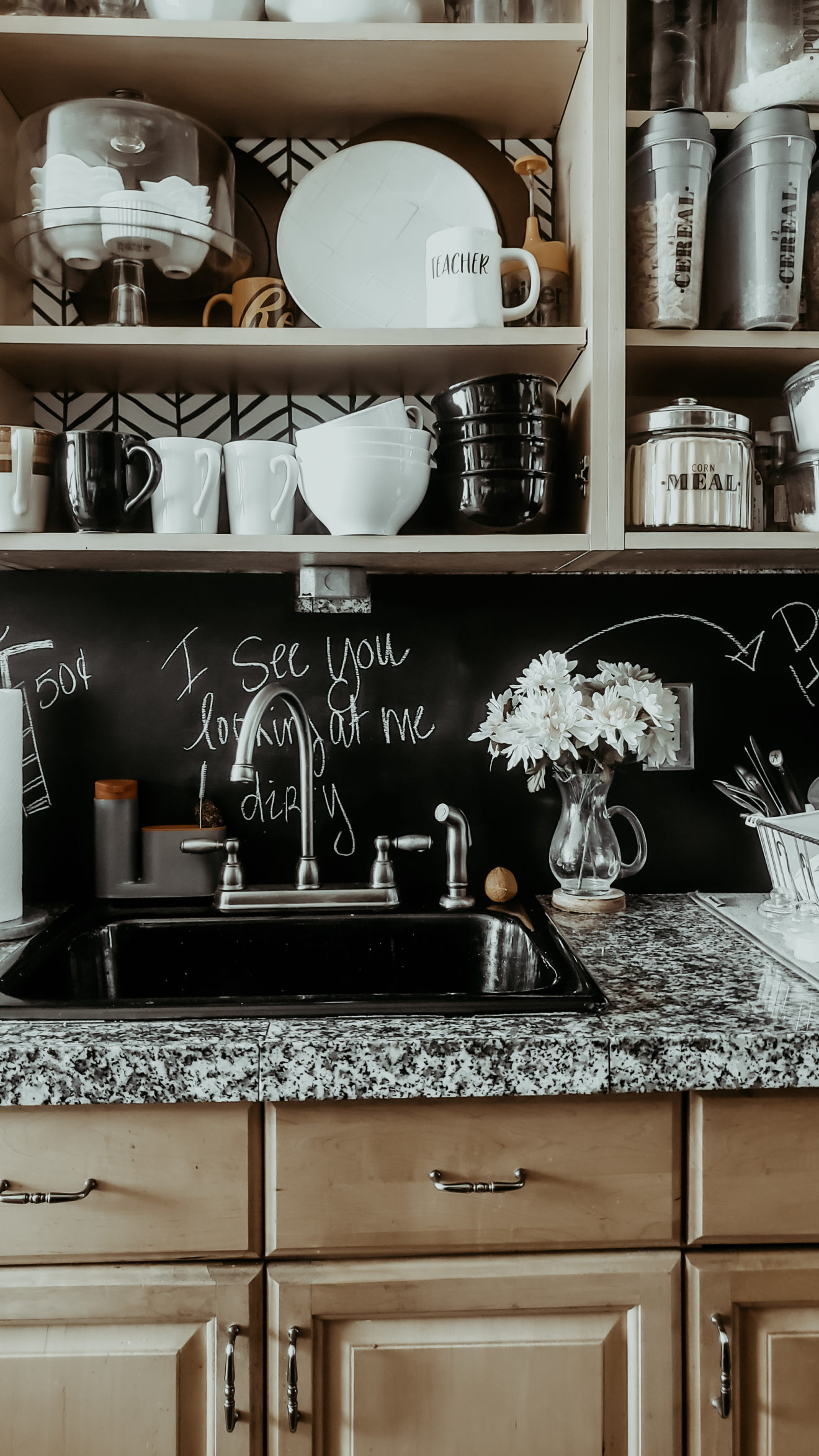 Creating this backsplash was so much fun and budget-friendly. I just love how simple low-cost updates can really transform the look of the kitchen. This is a great option for renters. I hope you found this project helpful. Please leave a comment below if you try this project. I would love to see it.